MTN's History
In 1929, Mr. Glenn L. Martin, a pioneer aviation designer and constructor, purchased 1,260 acres twelve miles east of Baltimore for the purpose of creating an aircraft manufacturing site for the Glenn L. Martin Aircraft Company. One of the first aircraft produced at Martin was the B-10, in 1932, which brought the company of the Collier Trophy. Construction of three runways, Hangars 1-2-3, and the Airport Administration Building took place during 1939-1940. Hangars 4-5-6 and the Strawberry Point Hangar were completed in 1940-1941. The China Clipper, PBM flying boats, B-26 bomber and Martin Mars were produced in these facilities. During the post-World War II period, the Martin 202 and 404 commercial transports, as well as jet-powered aircraft, were produced. The Martin Company consolidated with the American Marietta Corporation in September 1961 to form the Martin Marietta Corporation. The acreage devoted to airfield use, namely 747 acres, was sold on September 20, 1975, to the State of Maryland. In its role of fostering and developing aviation, the State's purpose in purchasing the Airport was to ensure the retention of a General Aviation facility close to Baltimore.
The Maryland Aviation Administration operates the Airport on behalf of the Maryland Department of Transportation. MTN is a General Aviation Reliever Airport.
Located at Martin State Airport, and operated by dedicated volunteers, the Glenn L. Martin Maryland Aviation Museum was founded in 1990. Visit the museum's website for more information.
MTN's Leadership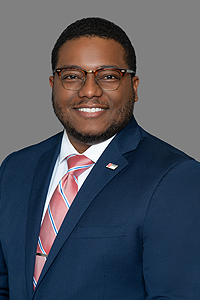 Harold A. Fowler is the Chief of Airport Operations and Maintenance for Martin State Airport.  In this leadership role, Mr. Fowler is responsible for the overall oversight and administration of Martin State Airport.  He leads all airport functions, including operations, grounds and facilities maintenance, customer service, security, and management of Martin State Airport's operating and capital budgets.
Mr. Fowler previously served as the Director of Fixed Base Operations for Martin State Airport.  He had earlier airport and aviation management experience with Signature Flight Support, Aircraft Service International Group, and BBA Aviation.  Mr. Fowler also served in a leadership support role with the Maryland Department of Transportation, Office of Minority Business Enterprise.
Born and raised in Baltimore, Mr. Fowler graduated Baltimore Polytechnic Institute and held an internship with NASA at Wallops Island, Virginia.  Fowler is a private pilot and holds a B.S. Degree in Aviation Management from the University of Maryland Eastern Shore.