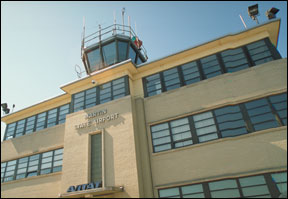 Martin State Airport is a public-use general aviation airport owned and operated by the Maryland Department of Transportation, Maryland Aviation Administration. An important transportation and economic development asset, the airport is located in Middle River, about 10 miles from the heart of downtown Baltimore.
The Martin State airfield consists of a single asphalt/grooved runway, 6,996 feet long by 180 feet wide. Runway 15/33 includes a full parallel taxiway and non-precision approach capability. The 775 acre airport also includes a concrete helipad that is 65 feet by 65 feet square. The airport's air traffic control tower operating between the hours of 6:00 a.m. and 10:00 p.m.
Martin State Airport serves and supports a broad variety of aviation services including corporate and private aviation activities, flight training, recreational, aviation maintenance, law enforcement, and military operations of the Maryland Air National Guard.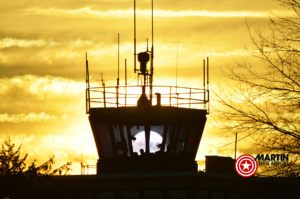 There are 258 aircraft based at Martin State, and the airport supports about 80,000 annual operations. The airport's role is to facilitate general aviation activities, providing a base for local and visiting pilots to reach the region, with an emphasis on serving the corporate aviation and military users.
A 2018 economic impact study reported that Martin State Airport generates and supports 2,405 jobs throughout the state and region, $169 million in personal income, and $297 million in business revenue. Aviation activities at Martin State contribute over $41 million in State and local taxes.
Martin State is officially designated as a "reliever" airport by the Federal Aviation Administration. Reliever airports, typically located in major metropolitan areas, divert general aviation activity from larger commercial service airports to help minimize congestion and delay at the busier airports. In this important function, Martin State attracts some corporate and other general aviation traffic away from the major commercial operation at BWI Marshall Airport. In many ways, Martin State Airport operates like a "fourth runway" for BWI Marshall Airport.
The fixed base operator at Martin State provides aircraft fueling and other services. 100LL and Jet A aircraft fuel is available. Aircraft parking and storage is available on paved tie down and in T-hangars. Other airport services include de-icing, 130,000 square feet of heated hangar space, professional office suites, and light industrial space are available for lease.
Other businesses at the airport provide flight instruction, maintenance and avionics, aircraft charter, and corporate aviation.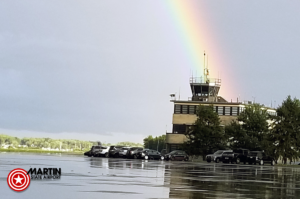 The airport's location near downtown Baltimore provides access to major attractions in the Greater Baltimore area. There's NFL action from the Baltimore Ravens, Major League Baseball with the Baltimore Orioles, and the annual Preakness horse race held in May at Pimlico Raceway. From Martin State there is nearby access to world class golf courses used by the PGA and LPGA and shopping at White Marsh Mall and the Avenue at White Marsh, as well as many historic sites and museums.
Martin State Airport is also home to the Glenn L. Martin Maryland Aviation Museum. This museum maintains an educational institution dedicated to the promotion, preservation, and documentation of aviation and space history in Maryland. The Glenn L. Martin Maryland Aviation Museum is active in the cultural life of surrounding communities and is certified by the U.S. Navy and Army.
Contact Us
MDOT Maryland Aviation Administration (MAA) Office of Communications 410-859-7027, Monday-Friday, 8:30 a.m. – 5 p.m.
After business hours, weekends and holidays, 410-859-7737. A public affairs specialist will be notified and respond to media inquiries.